CIB-1000A
CIB-1000A is a carrier board that provides the interface for Jetson TX1/TX2/TX2i of NVIDIA.
It provides TX1/TX2 module with various interfaces such as network, serical, video and etc.
It can be utilized for various application development such as
IoT, Smart Factory, Autonomous Flying & Driving, Intelligent Data Processing.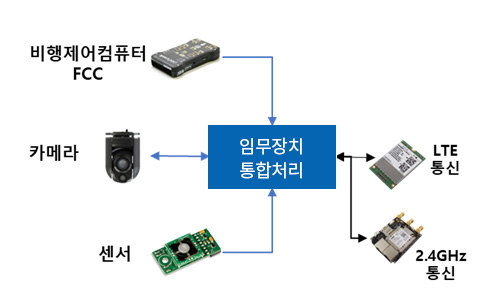 Mission Computer
(UAV/Drone/Robot)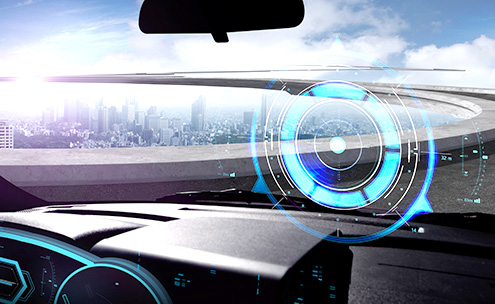 Autonomous Driving Development
(Car/Robot/Drone)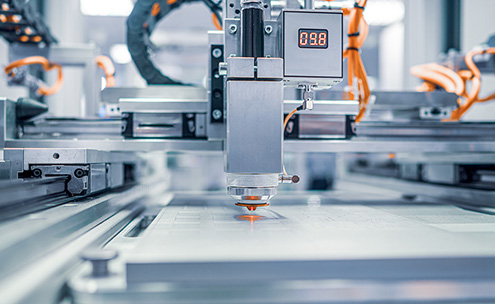 Smart Factoy & Automated Information Processing
(Machine Vision/Sensor Control/Data Processing)
Features
Domestic & Own-Developed and Manufactured Carrier Board
Nvidia Jetson Compatibility: TX1, TX2, TX2i
Support for Various Interfaces
Ethernet Hub Functionality: 4 Ethernet Ports
1 x HDMI Video Input
Real-time Technical Support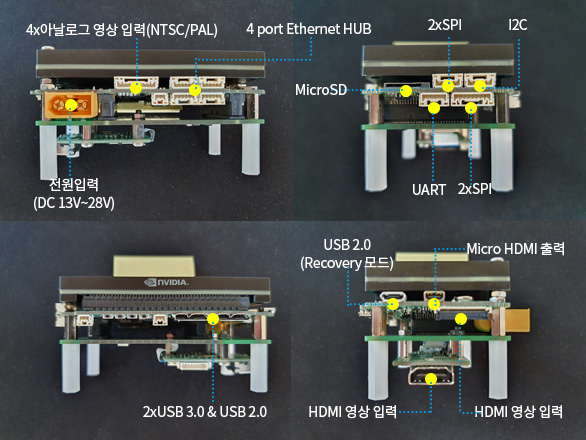 Hardware Assembly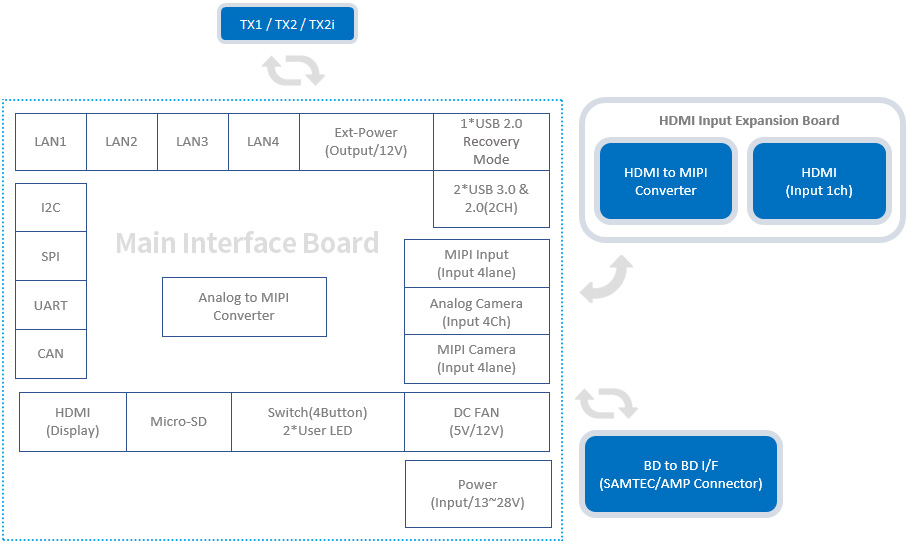 Hardware Interface
Items
Specifications
Compatibility
NVIDIA® Jetson™ TX1/TX2/TX2i module
Network
4 Port 10/100Mbps Ethernet Herb
Image output
1x Micro HDMI(Type D)
Image input
4xAnalog Video(NTSC/PAL)
1×4 lane MIPI-CSI
Image input expansion
Input 1x HDMI Video
(necessary HDMI-MIPI converter)
USB
2xMicro USB 3.0 & 2.0 Links
1xMicro USB 2.0 Links (Recovery Mode)
GPIO expandability
1x 3V3 UART, 1x I2C, 1x2ch SPI Port, 1x CAN Bus
Storing medium
1x microSD Card
Operating input/output
Power, Reset and Recovery, Volume, LED(2*User LED)
Power supply
+13VDC ~ +28VDC
Managing condition
Operable temperature : -20°C~55°C
Storage temperature : -40°C ~ 85°C
Humidity : 95%, Non-Condensing
RTC Battery
Support
Shape
L: 98mm x W: 54mm  H: 14mm
Weight: 42g

Front, Back

Carrier Board + HDMI expanded board

Carrier Board + HDMI expanded board +Jetson
※ When HDMI input is necessary, need to install driver and environment separately
Do you want to purchase the solution
or get some consultation?